That's Red Hot Chili Peppers, for those of you who remember!
Anyway, onto the business at hand...
Nicki from
Mrs. Thigpen's Kindergarten
has reached 50 followers! This is a pretty big moment in a young blogger's life, so go show her some support =D
If you haven't seen her TpT store yet, make sure you check it out. She has some super cute products and lost of freebies.
Erin from
Tales From Room 112
is having a 200 Follower Giveaway with over
50
products all for one lucky winner!
Entries close next Monday.
Brooke from
The Intentional Momma
is hosting an October Group Giveaway! There will be two winners of prize packs worth over $75 each.
Entries close in just over four days time.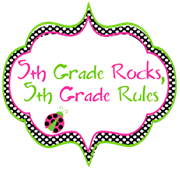 Her giveaway ends on the 31st.
That's all for now. Good luck!